Our latest design a "Disk Punching Machine" is a two-station in-line feed type machine.  The first station welds two materials together and the second station punches the disks out. This machine produces 1,000,000 disks per shift. Material is fed into the machine from two reels on the left side of the machine and after processing, is re-wound on the right side take up reel. Over-all the machine measures approximately 96″ x 36″ x 84″ Height. Power is 110VAC and compressed air. Operation is via operator control box controlled by a PLC. Full safety guards with magnetic safety interlock switches keep operators away from danger points.
Front View: "Operator Location"
Material enters the machine from two reels on the left side, through a series of rollers equipped with material "out" sensors to align the material prior to welding. Welding takes place between the weld horn and the large wheel. Next in line is the weld feeder which keeps tension between the drive roller and weld horn. Between the weld feeder and the punch press is a "dancing roller" that detects slack or tension in the welded material. The material then passes through the punch press where the disks are punched out and through the press feeder which accurately indexes the material between punch strokes. Lastly the material passes through the right side of the machine to a take up reel which rolls up the waste.
Left View: "Material Input, Weld and Weld Feed Station"
Shown here, the machine is set up for ultra-sonic welding of two layers of material. The layers are welded on four very narrow lines over a guided wheel.  Overall width of the material is 2-3/8″ and the thickness is approximately 1/32″ combined.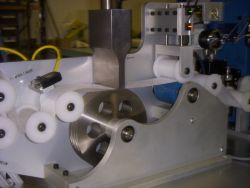 Right View "Punch and Punch Feed Station"
The material passes through a punch press which cuts the disks centered over the four weld lines. This produces two disks that are welded together. In this application the machine operates in continuous mode automatically cycling approximately every .7 seconds.  The disks drop into a collection basket which is then transfered to another machine for further processing.